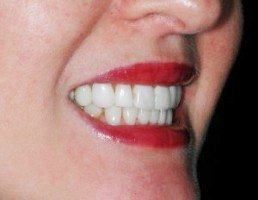 Porcelain Veneers
Beautiful, Strong, Conservative and Long Lasting
Porcelain veneers are a conservative way to change the appearance of many of the problems that can exists with the front teeth. The newer materials mimic a natural tooth and are unable to be discriminated from a real tooth. Gone are the days that it is obvious that a person has a crown on their front tooth that has a dark line at the gum. Veneers can change teeth that are rotated, misshapen, have gaps or issues of color or unevenness. Today's porcelains are not only beautiful but strong. Porcelain veneers can be expected to last for many years, perhaps as long as 20-25. There needs to be sufficient strength and structure of the remaining tooth and only a minimal amount of the enamel is removed from the front surface of the tooth and a little off the top edge. Today's Porcelain veneers are beautiful, strong and long lasting.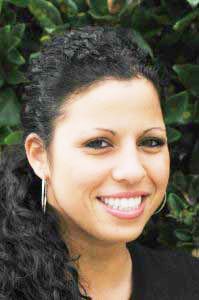 Resin Veneers
Resin Bonding is Conservative
Resin veneers sometimes called Direct Bonding, or just Bonding, is another minimally invasive technique used at Smile Design. Today's resins beautifully mimic natural tooth structure and often times a tooth that is misshapen, twisted, chipped or discolored can be made to look absolutely beautiful. Resin bonding involves very little removal of natural tooth. It, often times, can be done in conjunction with a restorative filling or replacement of old fillings on the front teeth where it's cosmetically visible.
Before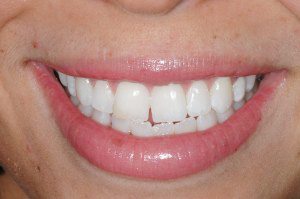 After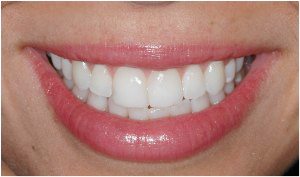 One Visit Veneers
Ceramic veneers made with CEREC are strong and beautiful. They are often as beautiful and conservative as veneers fabricated by our cosmetic dental laboratory. In larger cases we will sometimes prep the teeth one day and have the patient return the next day to insert them to save the patient time as the veneers are processed and cured.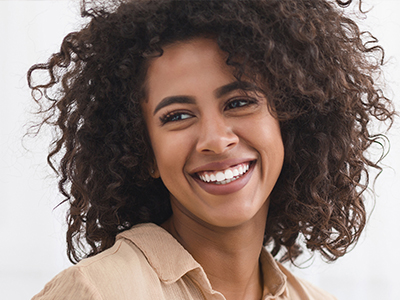 Our Location
5445 Village Drive
Suite 100

Viera
,
FL
32955
Existing Patients: (321) 751-7775
New Patients: (321) 234-6428
Follow Us