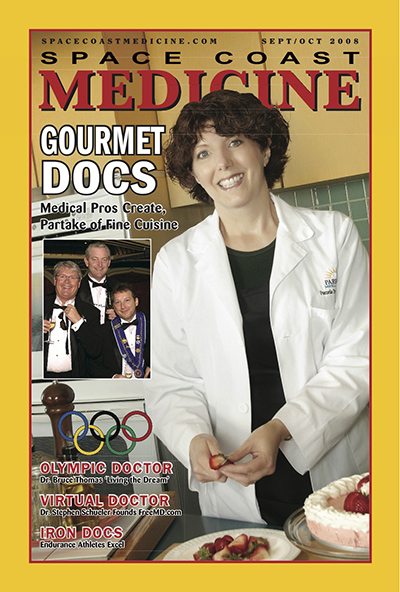 by Chris Edwards, DDS
Published September/October 2008
Camera attachment allows patient to see their dentist's work – up close and personal
IMPROVED MAGNIFICATION aids in caries detection and the identification of fractures and abnormalities. In the reconstructive aspect, the enhanced magnification enables the dentist to assess decay removal and prepare conservative restorations, saving important tooth structure.
Many of us haven't been to the dentist for a long time and our memories and fears of how it was the last time we went is a good part of the reason why we don't go now. But, dentistry has made tremendous changes benefiting the patient in unimaginable ways. New laser dental technology is now allowing dentists to treat their patients more comfortably than ever. The only problem is that most people don't know that laser dentistry exists here in Brevard County.
Waterlase MD
The Waterlase MD is a revolutionary dental tool that uses a combination of laser energy and water to perform many dental procedures with few to no shots. The US Food and Drug Administration approves it for use in a variety of dental work from fixing cavities, preparing teeth for crowns and root canals, gum treatment including surgery and it can even help in placing implants.
Biolase, the company that makes the Waterlase MD, the leading dental laser in the world, patents the process called HydroPhotonics. The laser's use of water prevents the buildup of heat that naturally occurs with most lasers. This enables the gentle removal of tooth, decay and even bone with very little trauma to the tissue and much less postoperative discomfort. The Waterlase MD anesthetizes the nerve inside the tooth, making it possible for many procedures to be done without local anesthetic, in other words, no shot! There is no vibration only an audible 'popping sound.'
DIAGNOdent
The WaterlaseMD is one very important part of Minimally Invasive Dentistry. The DIAGNOdent is the other. The DIAGNOdent is a brilliant tool, which finds cavities before they are visible to the naked eye or show up on an X-ray. Dentists using the DIAGNOdent and Waterlase MD lasers are able to diagnose cavities earlier and restore teeth with minimal enamel removal. The benefit to patients is that these teeth are ultimately stronger and have a better chance of lasting a lifetime. No more big amalgam fillings, cracked teeth or the expense of crowns and root canals. The old adage 'a stitch in time saves nine' is applicable here.
The Waterlase MD does not damage adjacent tissue. Less tissue damage equals less discomfort and a shorter healing time. The laser also kills bacteria, which promotes healing.
Lasers make going to the dentist a win/win situation. They minimize the likelihood that you will need extensive dentistry that can be expensive and painful. They also make the dentists' job easier and more pleasant for all.